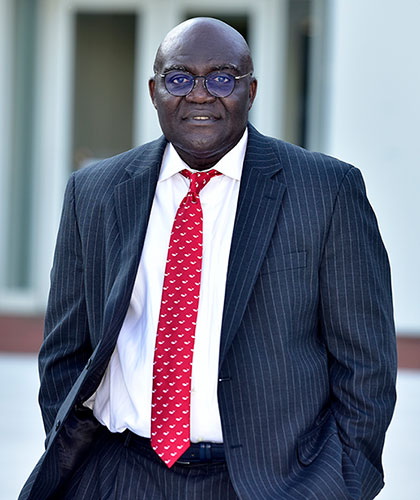 Attoh-Okine, Nii O.
Chair

A. James Clark School of Engineering
Civil and Environmental Engineering
Center for Risk and Reliability

1173G Glenn L. Martin Hall

Website(s):

EDUCATION
Ph.D., University of Kansas
Diplom Ingineur, Rostov Institute of CIvil Engineering
BACKGROUND AND RESEARCH INTERESTS
Professor Attoh-Okine's research expertise is in resilient infrastructure, with a strong focus on cybersecurity and digital technologies applied to transportation and civil infrastructure. A well-recognized expert in railway engineering, he also leads efforts in digital twins, cybersecurity, and blockchain technologies applied to civil engineering. He is a member of the National Academy of Science, Engineering and Medicine committee on Safe Transportation of Liquefied Natural Gas by Railroad Tank Car.
He currently holds a joint appointment in electrical and computer engineering at the University of Delaware and, until recently, was also the Interim Cybersecurity Initiative Academic Director. He is a member of the State of Delaware Cybersecurity Council and in addition, served as the lead representative from the university to the Digital Innovation Hub, a US-Japan University Consortium promoting research in digital innovation across multidisciplinary topics. In recognition of his leadership, he was selected as one of only 18 international speakers chosen to attend the G20 Ministerial Meeting held in Japan in 2019.
Attoh-Okine is a founding associate editor of the ASCE/ASME Journal of Risk and Uncertainty Management in Engineering Systems and has served as an associate editor of Journal of Infrastructure Systems, Journal of Computing, Journal of Bridge Engineering, and Journal of Pipeline Systems Engineering and Practice. He has authored two books, "Resilience Engineering: Models and Analysis and Big Data" and "Differential Privacy in Railway Track Engineering."
 Railway Track Analysis
Resilience Engineering and CyberResilience
Theory of Pavement Design
Graphical Models/Belief Functions
Blockchain/Smart Contracts
Digital Twins  
Topological Data Analysis    
ENCE 688 : Theory Guided Machine Learning