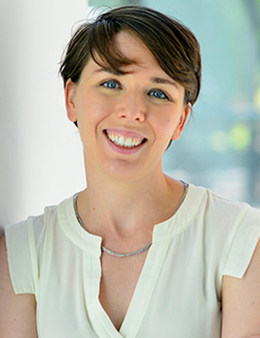 Reilly, Allison
Assistant Professor
Pedro E. Wasmer Professor in Engineering

Civil and Environmental Engineering
Center for Risk and Reliability

1174 Glenn L. Martin Hall

VIRTUAL OFFICE HOURS (FALL 2020)
Mondays and Fridays, 2:00 - 3:00 PM and by appointment
Contact via email (areilly2@umd.edu) for Zoom link
Dr. Reilly is a civil engineer specializing in risk and resilience of infrastructure systems. She is particularly interested in characterizing the interplay between the resilience of infrastructure and individual decision-making. Recent projects include examination of investment decisions by managers of interdependent infrastructure systems and the movement of hazardous materials under threat of terrorism.
Dr. Reilly holds a Ph.D. in Civil Engineering from Cornell University, in Ithaca, NY. She holds an M.S. in Civil Engineering, also from Cornell University, and a B.S. in Civil Engineering from Johns Hopkins University. She is a member of the Society for Risk Analysis, INFORMS Decision Analysis Society, and the American Society of Civil Engineers.
Hazard risk assessments
Decision-making
Infrastructure system performance and protection
FEMA's Public Assistance Program and its role in community recovery
Assessing resilience of Maryland state parks
Adaptation of municipal infrastructure under sea level rise
ENCE 302 Probability and Statistics for Civil Engineers
ENCE 688k Risk and Resilience of Infrastructure Systems and Services
Reilly, A., S. Guikema, L. Zhu, T. Igusa. (2017) "Evolution of vulnerability of communities facing repeated hazards." PLOS ONE, 12(9): e0182719. DOI: 10.1371/journal.pone.0182719
Reilly, A., G. Tonn, C. Zhai, and S. Guikema. (2017) "Hurricanes and Power System Reliability – The Effects of Individual Decisions and System-Level Hardening." Proceedings of the IEEE. 105(7): 1429 – 1442. DOI: 10.1109/JPROC.2017.2689720
Reilly, A., A. Staid, M. Gao, and S. Guikema. (2016) "Computer parallelization for risk analysis: A tutorial." Risk Analysis. 36(10): 1844-1854. DOI: 10.1111/risa.12565
Reilly, A., R. Davidson, L. Nozick, T. Chen, and S. Guikema. (2016) "Using data envelopment analysis to evaluate post-hurricane electric-power restoration performance." Reliability Engineering and System Safety. 152: 197-204. DOI: DOI:10.1016/j.ress.2016.03.007
Reilly, A., A. Samuel, and S. Guikema. (2015) "Gaming the 'system': Decision making by interdependent critical infrastructure." Decision Analysis. 12(4): 155-172. DOI: dx.doi.org/10.1287/deca.2015.0318
CEE researcher to study resilience disincentives baked into federal public assistance programs.
Meet Hamed, who found his passion for engineering from his Civil Engineer siblings.
The fellowship supports emerging scientific leaders as they work to improve offshore energy system safety.
Graduate students of Dr. Allison Reilly and Dr. Shelby Bensi will present at SRA 2019
Dr. Reilly will serve a three-year term as a council-member.