Dr. Monifa Vaughn-Cooke Awarded a Maryland Innovation Initiative TEDCO Grant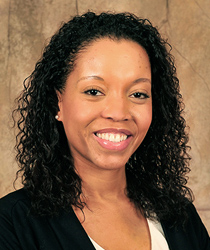 Dr. Monifa Vaughn-Cooke was awarded the Maryland Technology Development Corporation's Maryland Innovation Initiative grant, to develop a wearable gesture recognition device for individuals with limited upper body mobility. The device is intended to support independent daily activities, rehabilitation tasks, and recreation such as disabled gaming. The grant will fund the design, prototyping and human testing of the wearable sensors and accompanying software algorithms. The grant will also support a Postdoctoral Research Associate, Dr. Louis Dankovich, who recently received his PhD in Mechanical Engineering from UMD, where he performed preliminary work on the wearable gesture recognition device as part of his doctoral dissertation research.
The Maryland Technology Development Corporation (TEDCO) is a Maryland-based independent organization focused on researchers, entrepreneurs, startups, and early-stage companies bringing innovative ideas to market. The organization provides a framework of knowledge, funding, and innovation to support research institutions as well early-stage technology and life sciences companies in Maryland.
The Maryland Innovation Initiative (MII) was created as a partnership between the State of Maryland and five Maryland academic research institutions including the University of Maryland, College Park. The goal of this program is to facilitate technology transfer from university labs to start-up companies fostering innovative economic development in Maryland.
To learn more about the Maryland Innovation Initiative, click here.
Published November 16, 2021