CRR Congratulates Taotao Zhou, Ph.D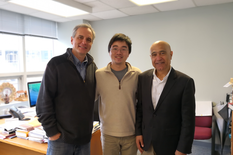 The Center for Risk and Reliability congratulates Taotao Zhou for earning his Ph.D in reliability engineering. Taotao successfully defended his dissertation Development of Approaches to Common Cause Dependencies with Applications to Multi-Unit Nuclear Power Plant directed by Dr. Mohammad Modarres and Dr. Enrique Droguett. Taotao's research provides three approaches to address the external and internal events in a multi-unit PRA.
Taotao completed his bachelor's of science in Quality and Reliability Engineering at the Harbin Engineering University in China. He completed his master's in Industrial Engineering at the North Carolina State University in Raleigh. The University of Maryland's Clark School of Engineering and CRR are honored to graduate Taotao with a doctorate's degree in Reliability Engineering. While at UMD, Taotao received the C. Raymond Knight Fellowship in Reliability Engineering and won the Best Poster Award at the 2016 ASME-International Conference on Nuclear Engineering. He is also currently nominated for the 2018 Dean's Doctoral Research Award from the Clark School.
Best of luck to Dr. Zhou as he takes his expertise to Huawei Technologies' R&D Center where he will work as a Research Engineer.
Published May 29, 2018