Professor Bilal Ayyub awarded Honorary Membership to ASME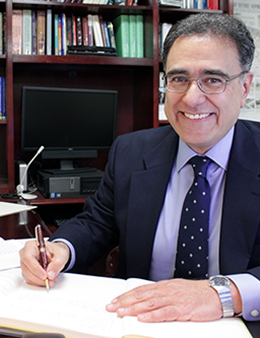 Professor Bilal M. Ayyub was awarded Honorary Membership to The American Society of Mechanical Engineers (ASME) for 2019. Honorary Membership is awarded for a lifetime of service to engineering or related fields. This achievement is described as "distinguished service that contributes significantly to the attainment of the goals of the engineering profession." Honorary Membership was first awarded in 1880, the founding year of the Society.
Professor Ayyub is honored for distinguished leadership and contributions in risk analysis for the protection and lifecycle management of infrastructure systems using quantitative methods in engineering mechanics, economics, and finance.
Professor Ayyub's main research interests include measurement science for resilience and sustainability, design and adapatation to a changing climate, civilian and defense infrastructure resilience, risk, and reliability, global catastrophic risks, autonomous systems and control, and big data and offset technology prediction. He has completed research projects for governmental and private entities, including the National Science Foundation, the U.S. military, the U.S. Department of Homeland Security, ASME, and NATO. He has served on the boards of several research and development companies, and receieved a number of research awards.
An ASME Fellow, Professor Ayyub is the founder and current editor-in-chief of the ASCE-ASME Journal of Risk and Uncertainty in Engineering Systems and chair of ASME's Research Committee on Risk Technology. He is also a distinguished member of the American Society of Civil Engineers and a Fellow of several other societies.
Published November 4, 2019