Rudnick-Cohen awarded Outstanding Systems Engineering Student Award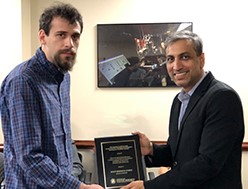 Dr. Eliot Rudnick-Cohen (ME Ph.D. 2019) was awarded the George Harhalakis Outstanding Systems Engineering Graduate Student Award. Dr. Rudnick-Cohen defended his dissertation in July 2019, advised by Dr. Jeffrey Herrmann and Dr. Shapour Azarm. Currently, he is a Research Associate in the National Research Council Research Associate Program and completing a postdoctoral appointment at the Air Force Research Laboratory.
Eliot's research focuses on digital optimization, controls, robotics, and risk analysis. While a student at the University of Maryland, he developed and tested novel techniques for solving risk-based path optimization problems for unmanned aerial vehicles operating in domestic airspace. Eliot also developed innovative techniques for solving robust optimization problems and combined design and planning problems for UAVs.
Eliot served as a teaching assistant for multiple mechanical engineering courses and was a member of the Clark School's Future Faculty Program. Eliot aspires to become a faculty member at a leading institution after he completes his postdoc.
Drs. Herrmann and Azarm nominated Eliot for the award, noting that he was among one of the best Ph.D. students in their program. In their nomination, they wrote, that Eliot, "is not only technically outstanding and creative but also responsible and thoughtful. He has been an indispensable and effective member of our research team, he has mentored undergraduate students, and he has given technical presentations at scientific conferences. He is overflowing with ideas with future research. We have no doubt that Eliot will become a very successful system engineer and make significant contributions in engineering and to society at large."
Published September 18, 2019