Australian Army Students Complete Posting at UMD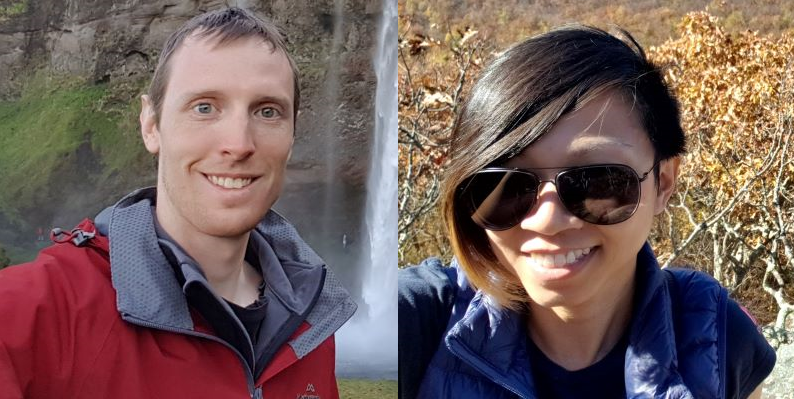 Every two years, the Australian Army selects two candidates to attend the University of Maryland to complete an M.S. in Reliability Engineering, a degree not offered in Australia. The Australian Army selects candidates based on merit against many applicants for this challenging posting. The posting is considered Long Term Schooling and tuition is funded by the Australian Army with a Return of Service Obligation at the completion of the program. Following the completion of the degree program, the candidates return to Australia with their newfound skills to work in the management of Land Materiel. Matt Reid and Thuy-An Vu began their studies at the University of Maryland in August 2018.
Matt first heard about the opportunity to study at the University of Maryland through a colleague who had previously completed the M.S. degree, which led Matt to attend the Defence Reliability Management Course, which is a short course on reliability engineering run by the Australian Defence Force. This short course sparked an interest for Matt to pursue further studies.
During his time at UMD, Matt developed a Python library for reliability engineering (which may be found here). The Python library is a tool that future ENRE students will have access to and find useful and Matt has already received positive feedback from reliability engineers worldwide on the Python library. When asked about what he will take back with him from his reliability engineering studies, Matt responded, "I have gone from knowing very little about reliability engineering to now having a strong theoretical understanding of how to apply reliability engineering principles to a variety of engineering problems. I believe this theoretical knowledge will be essential for my future work and I look forward to applying what I have learned in a practical setting."
Thuy-An Vu first heard about the opportunity to study at the University of Maryland through the Australian Army's Career Advisor and Career Management. She completed the Defence Reliability Management Course in 2016, which was taught by staff who had graduated from the M.S. in Reliability Engineering Program at UMD.
While at UMD, Thuy-An completed a scholarly paper focused on Aging Models in Metals and Composites. When she arrived at UMD, Thuy-An said she had "limited reliability knowledge and now has a set of tools and skills that [she] can apply to practical applications in a Defence setting." After completing her M.S., Thuy-An said she "look[s] forward to using my new skills and bringing innovation in the field of reliability where we can make improvements to our current and future capabilities within Defence."
Both Thuy-An and Matt also had the opportunity to bring their families to Maryland while they studied full-time at UMD.
Following graduation, Thuy-An will be remaining in Maryland, working with the U.S. Army at Aberdeen Proving Grounds in 2020. She will return to Australia in 2021 to work for the Land Engineering Agency. Upon his return to Australia 2020, Matt will be working at the Land Engineering Agency in Melbourne.
Published December 13, 2019