Professor Gabriel honored with Jubilee Professorship at Chalmers University of Technology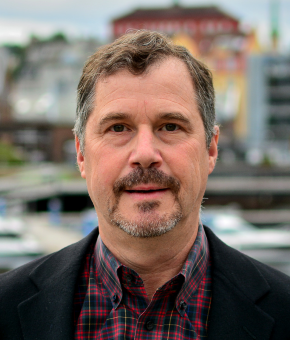 Professor Steven Gabriel was named a Jubilee Chair Professor of Chalmers University of Technology, in Gothenburg, Sweden. He is hosted by the Department of Space, Earth and Environment. This professorship at Chalmers University is offered to outstanding scientists in various fields.
The Jubilee Professorship was established in 1979 when Chalmers' university celebrated its 150 years. The purpose of the Jubilee Professorship is to enrich Chalmers' research environment and to strengthen its international collaborations. Jubilee chairs are designated annually by the President of Chalmers University.
Steven Gabriel is a full professor in both the Department of Mechanical Engineering and the Applied Mathematics and Statistics, and is one of the core professors in the Center for Risk and Reliability.
Professor Gabriel works in the field of mathematical modeling as well as algorithm design for optimization and equilibrium problems in a variety of engineering and economic areas such as energy, the environment, transportation, and telecommunications.
Besides his collaborations at the University of Maryland and Charmers University, Dr. Gabriel has worked with colleagues and students from the Norwegian University of Science and Technology as well as Aalto University, on new research directions in operations research and energy modeling.
In recent months, Dr. Gabriel has also led/co-led several conference organizations. Specifically, he was the general chair of the 2021 Trans-Atlantic Infraday (TAI) conference held at Aalto University in Finland. Additionally, he was the co-organizer of the recent "Trans-Atlantic Week," a weeklong event with participants attending from the University of Maryland, Aalto University, Stockholm University, Chalmers University, Norwegian University of Science and Technology, Institut Français du Pétrole Energies Nouvelles, and the Technical University of Denmark. During these events, Professor Gabriel invited lecturers to give talks related to stochastic optimization problems pertaining to the reliability of energy markets and other related areas.
The Center for Risk and Reliability congratulates Professor Gabriel for his extensive work in strengthening international collaborations in the areas of energy systems and reliability of energy markets.
Discover more about Chalmers' Jubilee Professors here.
Published May 9, 2022