Connect with Maryland Engineering at the 2023 ASEE Annual Conference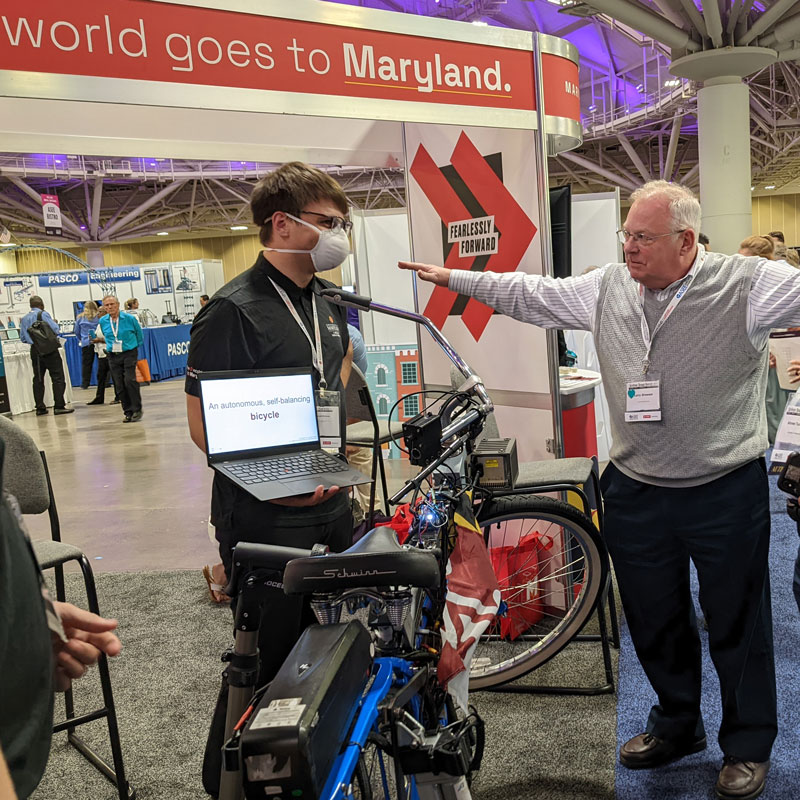 Come meet Clark School Dean Samuel Graham, Jr., and engineering faculty, staff, and students, at the American Society for Engineering Education (ASEE) Annual Conference being held June 25–28, 2023 at the Baltimore Convention Center.
This year marks ASEE's 130th anniversary, and the A. James Clark School of Engineering is excited to participate in this annual event that connects individuals and partners from across engineering and technology education.
We will be showcasing a variety of impressive research projects from the Maryland Robotics Center, the University of Maryland UAS Research and Operations Center (UROC), and more, along with presenting a technical session on the Engineering for US All (e4usa) educational program to conference attendees.
PLENARY TALK
Join University of Maryland President Darryll J. Pines for his plenary talk moderated by ASEE President, Dr. Jenna P. Carpenter.
Monday, June 26, 2023
8:00 a.m. – 9:00 a.m.
Ballroom 1 & 2 , Baltimore Convention Center
Add this session to your conference schedule.
TECHNICAL SESSION
President Pines and e4usa Co-Director and Vanderbilt University Adjunct Professor Stacy Klein-Gardner will lead a panel discussion on e4usa—a first-of-its-kind, national initiative designed to introduce engineering design principles to a new generation of students—and provide an update on its transition from an NSF-funded grant to a non-profit 501(c)(3) organization, as well as the next steps for the program.
Building a Sustainable Future for Engineering for US All (e4usa): Reflections on the Past and Insights for the Future
Monday, June 26, 2023
11:00 a.m. – 12:30 p.m.
Room 314, Baltimore Convention Center
Add this session to your conference schedule.
You can learn more about e4usa by visiting them at the Maryland Engineering exhibit booth.
EXHIBIT BOOTH | #701
Stop by Maryland Engineering's booth in the exhibit hall—#701, right next door to the ASEE Pavilion—to chat with Dean Graham, and our faculty and students and see their breakthrough research on display.
Students and staff from the Maryland Robotics Center will be on hand showcasing their Robot Master Mobile Platform used in the Clark School's new Robotics and Autonomous Systems (RAS) minor, Perception and Planning. In addition, mechanical engineering Ph.D. graduate Lena Johnson '14, M.S. '16, Ph.D. '22 will be exhibiting several student-designed bio-inspired robots along with Robo Raven, the flapping-wing UAV she contributed to as part of her graduate work.
Aerospace engineering graduate Qingwen Wei '23 from the UMD Autonomous Micro Air Vehicle (AMAV) team will showcase Gambit, their grand-prize winning drone that took top spots in the 2022 National Institute of Standards and Technology's (NIST) First Responder UAS Challenge.
The UMD UAS Research and Operations Center (UROC) team will be on hand demonstrating their work to advance UAS research and demonstrate operational capabilities, including LG1000, their custom-designed, award-winning drone that demonstrated the first-ever successful organ delivery flight by an unmanned aerial vehicle.
Connect with the University of Maryland's A. James Clark School of Engineering at ASEE 2023 and be sure to follow along on Facebook, Instagram, LinkedIn, and Twitter.
Published June 5, 2023